Who we are?
CALI Europe (Crédit Agricole Life Insurance Europe) is a Luxembourg life insurance company belonging to the Crédit Agricole Group. It is a subsidiary of Crédit Agricole Assurances, a market leader in the French insurance and European bancassurance sectors.
With more than 20 years of experience, CALI Europe supplies an international customer base with top-of-the-range, diversified and customised wealth solutions tailored to the needs of each customer (individuals, entrepreneurs and companies). Its solutions are marketed from its head office in Luxembourg and its branch in France. 
CALI Europe works in collaboration with a wide network of partners to market its policies: institutional partners, private banks and major independent brokers, etc.  
Its specialised teams have in-depth knowledge of the various markets, which they make available to their partners and customers to offer personalised support and provide responsive, appropriate solutions. 
CALI Europe is a member of the Association des Compagnies d'Assurances du Grand-Duché de Luxembourg (A.C.A.), with which it has signed a quality charter, and is approved by the Commissariat aux Assurances in Luxembourg. 

OUR KEY FIGURES (as at 31/12/2022)
€1,7 billion in new premiums 

17,4 billion in assets under management 

80 employees (Luxembourg and France)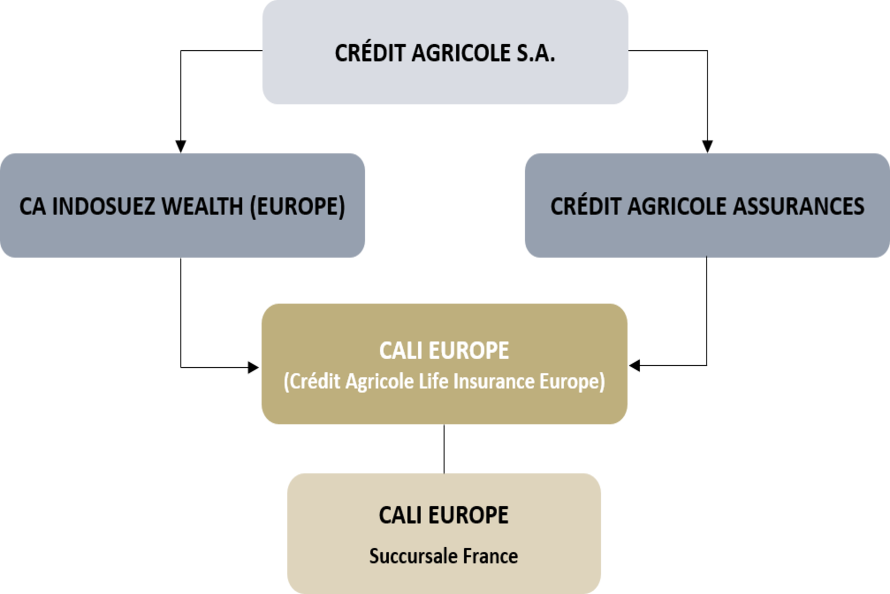 Our shareholding structure
CALI EUROPE, A COMPANY OF THE CRÉDIT AGRICOLE GROUP 
CALI Europe is a wholly-owned subsidiary of Crédit Agricole S.A., through Crédit Agricole Assurances and CA Indosuez Wealth (Europe). This privileged position within the Crédit Agricole Group is a guarantee of security, stability and reliability for our customers.